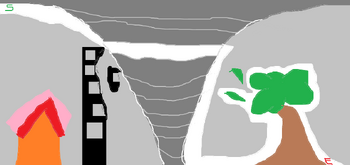 Tornado Rogor is a Devastating Master track.
You can't put towers on the tree or even the sky. Monkey Apprentices can be placed on Tornado Rogor ONLY. Blimps move faster (70%) during this time. Every 5 rounds, parts that you can put towers are destroyed. At round 85, there is no place except Tornado Rogor for towers.
Master of Airs will be 55% more stronger and can put destroyed places that you can place towers back to it's original place.
Trivia
You might see a 7 or an upside-down 2.
You can unlock this by getting a gold medal in Storm Cloud and being in Rank 80.
Ad blocker interference detected!
Wikia is a free-to-use site that makes money from advertising. We have a modified experience for viewers using ad blockers

Wikia is not accessible if you've made further modifications. Remove the custom ad blocker rule(s) and the page will load as expected.