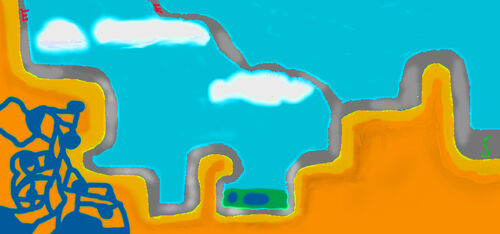 Mountainous Track is a Extreme track due to the 1st exit that is really near. It was photoshopped to make it a bit better.
This is unlocked at Rank 55.
Track
(Since the Information section is too long, it will be the Track section instead.)
The track starts on the east of the track, and then go u-turn and it may either be the exit or the other exit. (The harder the bloon that takes to pop, it may likely go to the first exit.) Going to the other exit, it goes down, and up, up again, then another u-turn and to the exit.
Places to put Towers on
On the the two lakes, the big river, the mountains and the clouds (only for flying towers).
Trivia
It was my biggest project yet. I did few in Paint and then I photoshopped it, making it better.
When the bloons is on the light gray, bloons will go 1.5x faster.
Ad blocker interference detected!
Wikia is a free-to-use site that makes money from advertising. We have a modified experience for viewers using ad blockers

Wikia is not accessible if you've made further modifications. Remove the custom ad blocker rule(s) and the page will load as expected.