This bloon was created with special rubber, so bombs and darts will bounce off! It can even evade spikes sometimes!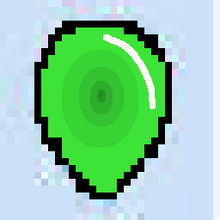 Stats
HP: 6
Drops: 10 Green Bloons
Parent: R.E.F.L.E.C.T
Speed: Green Bloon
RBE: 36
Round: 43
Immunities: Sharp objects and explosives bounce off it, popping other bloons.
Abilities
Bounce(Passive)
This bloon has a 50% chance of avoiding any given pair of road spikes.