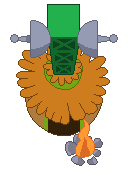 Bloonouflauger: A small beacon that shoots a beam to bloons and turns them into camo ones for 2.5 seconds, but greatly reduces their speed with such electricity for 4 seconds. The Bloonouflauger also can't pop bloons unless upgraded.
Stats: The tower only shoots at ordinary bloons (regardless of upgrades) making them camo for 2.5 seconds but reducing their speed to 40% (doesn't stacks with glue) for 4 seconds. The tower will also only shot to a bloon once
​Cost: $420
Range: 210px
Fire-rate: 35 shoots per minute
Upgrades
Path 1
HQ Batteries: High Quality batteries increase the tower's power.

Stats: Range increased by 20px, fire-rate increased to 40 spm and speed reduction is now 35% instead of 40%.
Cost: $340

Permenergy Batteries: These batteries will allow the tower to concentrate more energy, making it capable of popping bloons.

Stats: The tower pops bloons once when they are hit by it, range increased by 16px, fire-rate increased to 45 spm, speed reduction is now 30% instead of 35%.
Cost: $560

VolPlus Batteries: The VolPlus batteries increase the tower's voltage which makes bloons more dizzy and distracted.

​Stats: Camo duration is now 2.2 seconds and slowdown duration is 5 seconds.
Cost: $880

Hypa-Batters: The Hypa-Batters offer the tower unbelievable power! Making it way more deadlier!

​Stats: The tower can now shoot and pop 10 bloons and layers at once, range increased by 24px, fire-rate increased to 50 spm, speed reduction is now 25%, camo duration is 2 seconds, slowdown duration is 6 seconds and the tower can shot to the same bloon twice.
Cost: $5850
Path 2
Death-Style Beacon: The tower's beam attack makes bloons thing negative, which results in permanently losing their Regen status.

​Stats: Permanently eliminates regen status of bloons that have it.
Cost: $720

Shock Signal: Bloons that the tower shoots and turns into camo bloons can be detected by towers in its range.

​Stats: Bloons that the tower turns into camo can be detected by towers in its range. Can't shoot to bloons that didn't became camo with this tower though.
​Cost: $820

Anti-Rubber Beacon: The A.R.B concentrates enough energy to stun, cause chain reaction, and damage bloons!

​Stats: Bloons are stunned by 0.2 seconds and are popped every second for 4 seconds, they can also cause chain reaction with nearby ones.
Cost: $1600

Overheat: Overheat Ability: Who said a power outtage is not good? This ability deactivates the tower itself for 15 seconds but when the it gets its energy back, it causes a huge energy burst that completely destroys any non MOAB-class bloon on the screen and immobilizes MOAB-class bloons for 3 seconds.

Ability Cooldown: 110 seconds​
​Cost: $8200
NOTES
Prices are based in Medium Difficulty.
Descriptions are italiced.
Gallery
Tower Artwork
Credits go to 
Lord Nyan-Walama
 for unpixelating the 1-0 Monkey Village and High Energy Beacon.
Upgrade Icons
Trivia
Ad blocker interference detected!
Wikia is a free-to-use site that makes money from advertising. We have a modified experience for viewers using ad blockers

Wikia is not accessible if you've made further modifications. Remove the custom ad blocker rule(s) and the page will load as expected.