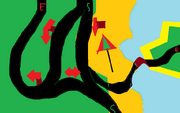 Beachpath is a Somewhat Tricky Track.
There are 2 starts and ends. There are arrows so you can be patient about there path! The bottom start goes to the left,while the top start goes to the island or does a u-turn. You can't place towers at the umbrella. You can't place Monkey Aces on the sand. You can't also place towers at the arrow signs.
Trivia
This is the neighbor of Sandy Beach.
The umbrella is made of gas. But, a umbrella is made of paper so nothing can be placed on it!
The island has an island.
Ad blocker interference detected!
Wikia is a free-to-use site that makes money from advertising. We have a modified experience for viewers using ad blockers

Wikia is not accessible if you've made further modifications. Remove the custom ad blocker rule(s) and the page will load as expected.