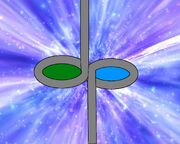 This page is for the special mission. For the boss of the same name, see '∞ (Boss).
∞ is a 25-round Special Mission taking place at the End of Infinity. In this mission, you have infinite money, so you can build your army as large as you want. But the more you buy, the harder the mission will get. The difficulty of each round is calculated by %CRBE/s (% Cost Red Bloon Equivalent per second), which can be shortened as |∞ (made up symbol, pronounced "valinfi"). A |∞ means the number of RBE that appears every second is equal to 1% of the total cost of all your towers and upgrades (for example, if all your towers and upgrades cost 10000$, and the difficulty of the round is 10|∞, then every second, the number of RBEs that will appear is 10000*10% = 1000 RBE/s.) The bloons with the most RBEs will take priority (for example, if the difficulty is 5 RBE/s, a pink bloon will appear every second, if it's 7 RBE/s, then a purple bloon and a red bloon. if it's 12 RBE/s, then 2 purple bloons, etc.) No Special Agents or Temple of the Monkey Gods are allowed in this Special Mission. The boss of this mission is ∞
Rounds
Round 1: 1|∞
Round 2: 1.3|∞
Round 3: 1.6|∞
Round 4: 1.9|∞
Round 5: 2.2|∞
Round 6: 2.5|∞
Round 7: 2.8|∞
Round 8: 3.1|∞
Round 9: 3.4|∞
Round 10: 3.7|∞
Round 11: 4|∞
Round 12: 4.5|∞
Round 13: 5|∞
Round 14: 5.5|∞
Round 15: 6|∞
Round 16: 6.5|∞
Round 17: 7|∞
Round 18: 7.5|∞
Round 19: 8|∞
Round 20: 8.5|∞
Round 21: 9|∞
Round 22: 9.5|∞
Round 23: 10|∞
Round 24: 11|∞
Round 25: ∞
Trivia
The BGM of this mission is an instrumental version of ∞
Doing something like using 1 Dart Monkey won't work.
Ad blocker interference detected!
Wikia is a free-to-use site that makes money from advertising. We have a modified experience for viewers using ad blockers

Wikia is not accessible if you've made further modifications. Remove the custom ad blocker rule(s) and the page will load as expected.